THESE MIST-COVERED MOUNTAINS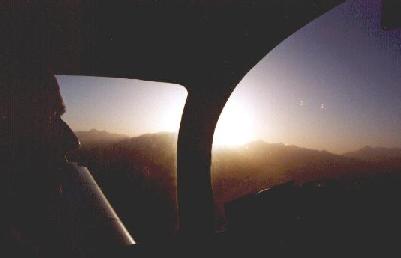 Friday 13th is a day which superstitious people feel bodes badly. For me, Friday 13th April 2001 was my first ever mountain flying. I'm a flatlander, having never flown from an airport above about 2000 ft. elevation, and of course, I've never seen mountains from the air. January of 2001 was the first time in my life I had seen the Rocky Mountains (and that was in a Volkswagen Jetta TDi!)
Our flight was from Houston Gulf to Salt Lake City Muni #2, just south of SLC's big airport. I flew with my friend Paul Reinman who was in the process of moving to SLC. His wife, Jenny, had already found work and a house there. If you've looked around my site, you'll have seen my partners-in-crime: Paul and Jenny are the partners on my Cessna 140. This long trip started early. Paul has a thing for early morning flying, so he managed to badger me into going in for a 4am takeoff from Houston Gulf.
Paul was working on his instrument rating, so I let him do the flight planning. Our plan was to fly IFR to get out of Texas, then VFR the rest of the way. We would be flying the club's Grumman Tiger, which (after the C140 of course!) is one of my favorite aircraft. The weather gods were also smiling on us: the weather would be soupy around Texas, but a large area of high pressure was moving towards SLC promising settled weather and light winds over the high country. I wanted the easiest flying conditions since it was my first flight into rugged terrain - and we got it!
Our 4am start went smoothly, and I racked up another 2 hours of actual instrument time. We had a minor hitch as we approached our first stop, Midland. The weather wasn't quite as forecast - instead of an easy approach, they had 100 foot ceilings. We checked the weather for other nearby airports: we had just passed San Angelo which had 600 foot ceilings, but we found that Abilene had 3,500 ft. scattered. We told Center we'd divert to Abilene. Looking at the charts some more, we found that Sweetwater might be better - it was less flying distance and less off course. The clouds were breaking up below us, so we told Center we'd go to Sweetwater. They approved this. Ten miles out, the clouds were pretty much all gone, and Sweetwater's ASOS was reporting 5 miles visibility and clear skies. Ten miles out I canceled IFR and started setting up to enter Sweetwater's pattern.
However, Murphy was at it again. We got to Sweetwater, and the undercast had built up again! It just wasn't quite thick enough for the ASOS to see. The highway just to the south of Sweetwater was visible, but the airport itself was under a cloud deck with a 200 foot base! However, all was not lost. The wind was out the south, and the clear skies were to the south - about 1/4 of a mile to the south of the airport to be precise. I pulled the power back, and we loitered for a bit whilst the cloud deck blew away. After blowing my first landing and going around (I came in too high in my haste to get in), we touched down at Sweetwater.
Our next stop was Albuquerque's Double Eagle airport. Not long after passing Midland, the clouds broke up and we were in the clear. The terrain became desert, and eventually the mountains around Albuquerque loomed into view. We climbed up and over them. The view was breathtaking - over the mountains with the city below. Airliners taking off from ABQ seemed to be all aimed for a valley between the mountains, and from our vantage point at over 10,000 feet MSL (but not many AGL) we could watch Southwest's Boeing 737s departing. Approach control cleared us right over Albuquerque's main airport as we headed for Double Eagle - the highest airport I have ever flown into.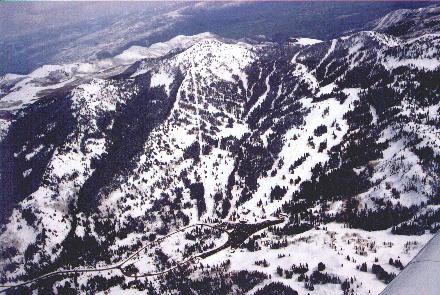 After lunch and a refuel, we departed from Double Eagle for our last leg to Salt Lake City. I was careful to lean for best power during the run-up, since the density altitude was above 6,000 feet. Even though the density altitude wasn't horrendously high, the difference between this and our takeoff at Houston was obvious. The Tiger still performed well, and we ran into some good thermals too, which boosted our climb rate. The terrain was dotted with mesas, and mountains began to appear on the horizon as we continued northwestwards towards our destination. The landscape was remote and beautiful. I kept eyeing any sign of civilization, because it would be where I'd try and head if we had any kind of emergency. Over Farmington, we listened to their tower - it was about the only large settlement we passed, and we were curious to see exactly how much traffic they got. We were just in time to hear some real trouble involving a Cherokee, his NORDO friend and a highly frustrated tower controller. The tower was handling about 3 aircraft when a Cherokee called for landing. He said he was to the northwest. Well, in fact (as he revealed later) he was actually to the northeast. Not only could he not tell his east from west, he couldn't tell his left from right either. To add to the confusion, he had a friend who's radio had failed following him. The tower decided to handle them as a flight of two. The Cherokee reported right base as requested, but it turned out he was left base for a completely different runway - a runway for which a Bonanza was alread on final for! The Bonanza pilot told the tower that someone had just cut in front. The tower controller got a bit confused at this point, and you could hear the stress level rise in his voice. He had the Bonanza pilot orbit while he got his troublesome Cherokee sorted out. Not surprisingly, the Cherokee got asked to call the tower on landing!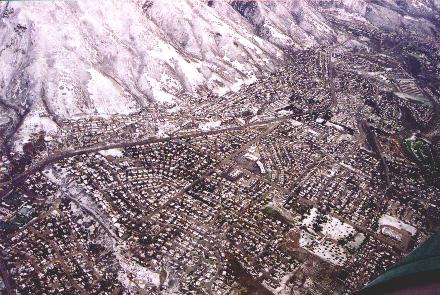 It wasn't long after this that we started getting over really high ground - over mountains themselves rather than just flying near them. The view was breathtakingly beautiful, as we detoured slightly, overflying the Alta and Brighton (photo above right) ski areas, and then down into Salt Lake City itself. This meant we came over the top at 12,000 feet or so - we had to spiral down over the suburbs of Salt Lake City as approach wanted us east of the interstate until we were at 6000 MSL. The landing at Salt Lake City Municipal Number Two (or just Number Two as the locals called it) was uneventful. It turned out that our timing with the weather was perfect - we arrived in good weather, and it snowed overnight and during the next morning. This made for a good Easter weekend's skiing at Alta and Brighton!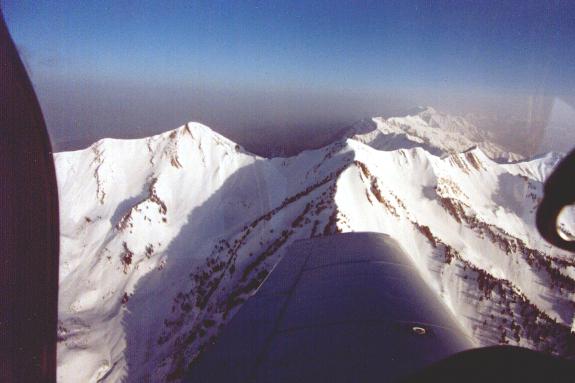 The day dawned clear and cloudless, with light winds forecast for our entire route. We decided that instead of flying back via ABQ, we would go a more direct route - directly over the Rockies. From Salt Lake City, you are in the mountains immediately.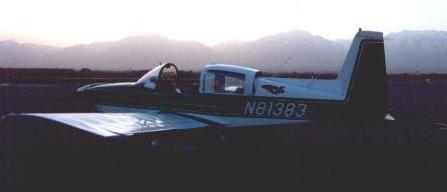 Despite being 5,000 above sea level, the Tiger performed well since the air was still cool. Very shortly after getting airborne, we were over the mountains. With a forecast for fairly calm winds aloft and clear skies, it would be a good flight for us, especially since this was only our second time flying over high terrain. We had to do some sightseeing too - although Paul is moving to Salt Lake City and will be living at the base of these mountains, I seldom see more than a slight hill, so I needed to savour the moment. The only thing wrong with the weather was that it was uncharacteristically hazy for the west. The haze we saw was normal for Houston, but so I'm told, it was very bad for this part of the world.
It's quite odd to be flying at over 11000 feet and having the terrain only about 1000 below you. It also makes you think where exactly you'd put it if you had to do a forced landing. There were a surprising number of options (more than I expected), although some of the options looked rather rougher than others.
Raton, New Mexico was our first stop. It's over on the east side of the Rockies (which we crossed in one jump), and seemingly in the middle of nowhere. The wind had picked up quite a lot too, and it got fairly turbulent as the wind passed over the various mesas. Our ground speed seemed very low when we touched down, and the wind at the surface was about 90 degrees different to what it was aloft. The airport had food, so we had lunch there. The unicom lady cooked lunch for us!
The next leg was to Mineral Wells, Texas. We climbed up to 11,000 feet again, and the flight went uneventfully for about an hour or so. After this, the clouds began to build up beneath us, until we were over an undercast. I checked the weather for airports ahead of us, and there were a lot of reports for "overcast", so I got a pop-up IFR clearance as we entered the airspace that's controlled by Amarillo Approach. Filing IFR turned out to be unnecessary in the end as our destination was under clear skies, but I got a little bit of "actual" IFR time when ATC had to keep us below an active MOA. The bad weather news was received when we were going to leave Mineral Wells. A stationary front had been true to its name - and had remained stationary. It was the same front that we had departed under early on Friday morning. However, instead of benign, smooth IMC conditions, air was moving southwards and being forced aloft, causing severe thunderstorms. I had seen the front was still there as we had departed Salt Lake City, so I was planning to file IFR for the last leg, but the thunderstorms put an end to that plan.
All the severe thunderstorms were concentrated around Houston. We had travelled around 1,000 nautical miles, to be stopped dead in the last 80 miles! Interestingly enough, the report for golf-ball sized hail was a PIREP. I'm glad I wasn't the pilot making that report. I decided to file IFR to College Station which was thunderstorm free. Our flight to College Station was indeed nice and smooth, and only in occasional IMC. Ahead of us, we could see the white tops and castellations of the broiling thunderstoms as they tore through Houston. There were several classic anvil heads. The landing at College Station was uneventful, and we taxied in to join half a dozen others who had also been stopped by the storms.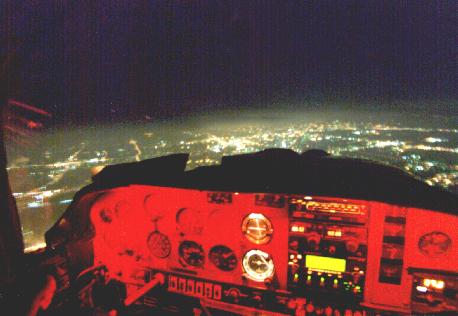 Fortunately, College Station has good facilities and a nice pilot's lounge. We had some dinner from the local Chinese takeaway, and finally launched VFR at around 9pm. In retrospect, we should have filed, there was an awful lot of scud around. I knew there was something unusual about our departure because we couldn't see the glow of Houston, normally visible for miles. This was because sheets of scud blanketed the city, dark and black. The air was very humid. Travelling through the I-10 corridor, I requested higher to get above it, and the request was granted. Ellington was not reporting a ceilling though, but I was a little skeptical. We were at 2500 ft, about 1000 feet above a solid layer of cloud. ATC turned us south just as I was about to request a pop-up IFR clearance. However, I didn't bother in the end as I could see that the scud layer ended near Ellington, and I could see the beacon at Houston Gulf.
The landing at Houston Gulf in the wet, clammy air was smooth. The Tiger, however, decided to add some humiliation to the mix. The left brake got stuck on as I tried to taxi off the runway. We ended up doing a 360. Fortunately no one was watching! An inauspicious ending to a long and enjoyable cross country ;-)
---
[Back to Flying]
Photographs by Paul Reinman and Dylan Smith.